The Santa Fe Prevention Alliance
The Santa Fe Prevention Alliance seeks to create a safe, healthy and drug-free Santa Fe County through the collective impact of our 40+ member organizations and individuals. Members invest the vision, inspiration, energy and expertise needed to build a positive future for our community.  With the support of the City and County of Santa Fe, schools, law enforcement, health care and treatment providers, faith communities and many others, the Prevention Alliance is making significant progress towards preventing and reducing alcohol and other drug abuse and DWI.  Organizations and individuals who share our vision are invited to become members.
Vision
Santa Fe County where no one drinks alcohol before the age of 21, where adults model low risk use, no one drives while impaired and no one abuses drugs.
Mission
The Santa Fe Prevention Alliance collaborates to prevent and delay the onset of underage drinking and other youth substance use by leveraging resources to implement culturally appropriate, evidence-based best practices in education, prevention and policy to positively change community norms and youth behavior regarding alcohol and other drug use.
Members
CHRISTUS St. Vincent Regional Medical Center ♦ Genoveva Chavez Community Center ♦ Hands Across Cultures, Corp ♦ Homewise ♦ Impact DWI ♦ Las Cumbres Community Services ♦ Hispanic Chamber of Commerce ♦ Kiwanis Club ♦ La Familia Medical Center ♦  LifePoint Church ♦ Mesa Vista Wellness ♦ NM CYFD / Juvenile Justice Services ♦ NM DOH, Northeast Public Health Region ♦ NM Department of Public Safety Special Investigations Unit and Uniform Bureau ♦ Presbyterian Health Services♦ Presbyterian Medical Services ♦ Santa Fe City Attorney's Office ♦ Santa Fe Community College ♦ Santa Fe County DWI Program ♦ Santa Fe County Sheriff's Office ♦ Santa Fe Mountain Center ♦ Santa Fe Police Department ♦ Santa Fe Public Schools ♦ Santa Fe Recovery Center ♦ Santa Fe Safe ♦ Santa Fe YouthWorks ♦ Serna Solutions, LLC ♦ Southwest CARE Center ♦ Student Wellness Action Teams (SWAT) ♦ Teen Court of Santa Fe County ♦ Youth Works  ♦ Youth Shelters ♦ and many individuals
Current Events & News
Great SUCCESS! DWI March of Sorrow/March of Hope and Day Y: Youth Taking Action at the Roundhouse on March 9th
At 8th annual DWI March of Sorrow/March of Hope.  Student Wellness Action Team interns held a press conference in the Rotunda, including musical performances and speeches. More than 200 people participated in the moving, silent march to remember the 166 people killed by DWI in 2016 and recognize all who are fighting this scourge. See Press Release for more information and check out SWAT's Anthony Rivera and AAA Doug Shupe TV interview 
Stigma Matters: Please Stop Using the Word "Addict" 
Jeanne Block, RN, MS,  gave her excellent presentation on Stigma and Language at today's Santa Fe Opiate Safe meeting and as part of the CHRISTUS CME Program last month.  "Addict is a word so loaded with stigma and contempt that it is appalling that we continue to use it."   Her message is powerful.  Her message was clear: Think about and change the language we use; use people-centered language that empowers and respects people.  Instead of calling people "addicts," refer to people with an addiction or a person with substance use disorders.  Language matters.  If your organization wants a presentation, please contact the Santa Fe Prevention Alliance to arrange.
The Prevention Alliance Talks About Overdose Prevention and Narcan on local radio show 
Bernie Lieving, Overdose Program Coordinator, and Shelley Mann-Lev, Director, were interviewed on KSFR (101.1 FM) Radio Breakfast with Nancy Show on Dec. 27th about the overdose prevention and response and our Narcan access project.  A wide range of topics were discussed including roots of the current overdose epidemic, heroin use in Santa Fe, how to talk with your children about opioids.  Listeners were informed about where they can get Narcan (aka naloxone), the life-saving opioid agonist medication that community members can use to help someone who may be overdosing from heroin or prescription opioids.  Most pharmacies (except Walmart) in Santa Fe carry Narcan, and Medicaid completely covers the cost.  People and organizations can also contact Bernie Lieving (505-270-5943) to arrange to receive Narcan and overdose training.
Pfizer Agrees to Truth in Opioid Marketing
Pfizer, the world's second- ­largest drug company, has agreed to a written code of conduct for the marketing of opioids that some officials hope will set a standard for manufacturers of narcotics and help curb the use of the addictive painkillers…Pfizer has agreed to disclose in its promotional material that narcotic painkillers carry serious risk of addiction — even when used properly — and promised not to promote opioids for unapproved, "off-label" uses such as long-term back pain. The company also will acknowledge there is no good research on opioids' effectiveness beyond 12 weeks. Read More
NM Ranks 49th in US for Child Well-Being
New Mexico ranks 49th in the nation for child well-being and last for children's education, according to New Mexico Voices for Children. The report looks at education, economic well-being, health and family and community.  According to the report, 30% of children live in poverty and 77% of 4th graders are not proficient in reading, the worst in the country.  New Mexico also ranks 47th in the number of high school students not graduating on time.   Click here to view the national data book.
During Graduation Season: Let's Celebrate and Keep our Youth Safe
Two thousand families of high school juniors and seniors have received postcards from the Santa Fe Prevention Alliance reminding them to take special care during this season to keep their teens safe from alcohol and to protect themselves from the legal consequences of providing alcohol to minors (a possible 4th degree felony).  We encourage those hosting parties that honor someone under 21 to consider not serving alcohol.  If you do choose to include alcohol, follow our 10 tips to make your event safe and fun.
235 Participants at the SOLD OUT Opioids and the Overdose Epidemic: Clinical Tools for Safety and Success Conference, May 7, 2016
We had a sold out crowd of health care providers, behavioral health professionals, pharmacists and others at the Santa Fe Community Convention Center for this conference which featured keynote Alexander Y Walley, MD, MSc., Michael Landen, MD, MPH,NM State Epidemiologist, Dan Duhigg, DO, MBA. Project ECHO, Jeanne Block, RN, MS, and many others. Powerpoint presentations and resource materials are posted on this website under Projects.  Taped sessions will be available SOON.
6th Annual DWI March of Sorrow/March of Hope & Day (Y):H Youth Taking Action. 
Please join us for a celebration of Generation "Y", and an opportunity for New Mexico youth to build their civic engagement capacity at the State Capitol Roundhouse.  This is a great way for youth to learn about the NM State Legislature and get familiar with the Capitol.  Press conference at noon to showcase youth advocates and the talents they possess!   Then march with us as we walk in solidarity to honor and remember those affected by DWI. The day will round out with a ceremony to celebrate positive youth and what they do to take care of their communities and themselves. Please contact Shelley Mann-Lev or Brendon Baca for more information! Spread the word! 
Nationwide Teen Use of Prescription Drugs, Alcohol and Cigarettes Declines
The 2015 Monitoring the Future report released Dec. 16, 2015, showed important shifts in teen substance use. The percentage of high school seniors who said they had used prescription opioids such as OxyContin or Vicodin dropped from 9.5 percent in 2004 to 5.4 percent this year. The percentage of students who said the pills were easy to obtain  also decreased.  Rates for New Mexico teens, including Santa Fe County, will be released in Fall 2016.
City Council Denies Liquor Sales at the "old" Walmart!
On Dec. 9th, the City Council denied Walmart's request to sell alcohol at their store at 3251 Cerrillos Rd.  Members and staff of the SF Prevention Alliance presented compelling evidence collected from police, EMS, Department of Transportation and community members that alcohol sales at that location will be detrimental to public health and safety.
SWAT Santa Fe Launches New Website
Go to www.SWATSantaFe.com and check out our fabulous youth partners.
Liquor Sales at the "old" Walmart?
Walmart has requested to sell alcohol at their store at 3251 Cerrillos Rd.  On Dec. 9th, 7pm, our City Council will hold a Public Hearing to decide whether to approve or deny the license. They need evidence about whether alcohol sales at that location will be detrimental to public health, safety or morals.  If you live nearby or serve clients who live nearby that might be negatively impacted, please attend the Public Hearing or send your testimony to santafepreventionalliance@gmail.com for us to submit.
Drug Take Back – Every Day  in Santa Fe
62% of youth who abuse opioid painkillers get them from home medicine cabinets. Please store medications carefully and dispose of unused drugs.
Santa Fe now has two permanent locations where drugs can be safely disposed.  The Santa Fe Police has a box in their lobby at 2515 Camino Entrada and the Santa Fe Fire Department has a box at Station 1, 200 Murales Road, behind Ft. Marcy Park, both open 8:00am – 5:00pm, Monday thru Friday.
Mental Health in New Mexico
Check out this new Fact Sheet on Mental Health in NM.  Mental health is a public health issue that is strongly linked to substance abuse.  Here are a few facts:
People with mental disorders are: 30x more likely to develop illicit drug dependence, 3x more likely to develop alcohol dependence, and 2.3x as likely to develop nicotine dependence.  More reasons to work together with all of our partners to help strengthen the health of our community.
Sign the Resolution – Alcohol Taxes Save Lives and Money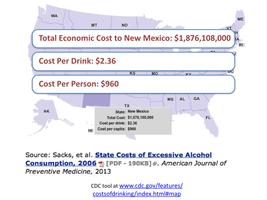 Click here to sign the resolution to support increasing alcohol taxes.  Too many people in New Mexico die from alcohol-related causes.  We are the highest state in the nation in deaths and second highest in per capita cost.  An increase in alcohol taxes of 25 cents a drink would save over 50 lives and raise over $150 million to be used for health care, prevention and treatment.  For more information, go to the website.
Your financial support allows us to expand our work. Please give today.
Santa Fe Partners in Education is our fiscal sponsor. Click below and select Santa Fe Prevention Alliance.